This Robot Jones game was released on January 27, 2004 for the Atari 2600 by FSX Games based on the 2002-2003 Cartoon Network cartoon of the same name
Level 1
Level 2 (unfinished, but can be acessed through a cheat code, crashes during gameplay)
Game over
Edit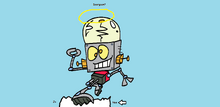 The Continue screen is Robot Jones running in heaven.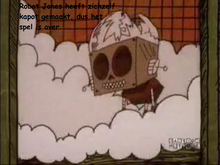 with the words Doorgaan? and a yes button with the words Ja and a No button saying Nee
The game over screen is Robot Jones commiting seppuku, with the text saying in Dutch ''Robot Jones heeft zichzelf kapot gemaakt, dus het spel is over''
There's a secret second level that can acessed by pressing the red button for 3 minutes.
Ad blocker interference detected!
Wikia is a free-to-use site that makes money from advertising. We have a modified experience for viewers using ad blockers

Wikia is not accessible if you've made further modifications. Remove the custom ad blocker rule(s) and the page will load as expected.