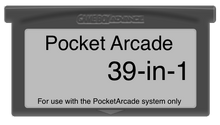 Pocket Arcade 39-in-1 (also known as 39 Arcade Games and commonly 39-in-1) is an arcade-oriented Game Boy Advance multicartridge and as a standalone handheld NES-on-a-chip created by 掌上软 Ltd. (Pocket Soft Ltd.), an off-shore mobile software company in Hong Kong and Mainland China. It was released on December 31, 2015.
Information
Edit
This Game Boy Advance multicartridge came with over 39-in-1 games, without repeats. Most of the included games were originally released for the NES and the Famicom. The creator 掌上软 Ltd., retained the title screens for all of the games, since it was released. This cartridge is built by PocketNES.
This cartridge can be seen on flea markets, garage sales and a few warehouses across in the United States, this cartridge is also common in most of the Asian countries (including China) and India.
Despite it has the warning "FOR USE WITH THE POCKETARCADE SYSTEM ONLY", it is also a GBA-compatible multicartridge that is compatible for Game Boy Advance units, such as the Game Boy Player, the Nintendo DS/DS Lite, few Game Boy Advance clones and the Game Boy Micro.
This multicartridge is also cheaper than a typical Game Boy Advance cartridge, sold around $0.99 (without box), $5.00 (with box) and $15.00 (mint condition and imported from Mainland China/Hong Kong).
List of games
Edit
American Football (Hack of 10-Yard Fight)
World War II (Hack of 1942)
Antarctica (Hack of Antarctic Adventure)
Balloon Brawl (Hack of Balloon Fight)
Tank Deathmatch (Hack of Battle City)
Bomb Maze (Hack of Bomberman)
Circus (Hack of Circus Charlie)
Road Painters (Hack of City Connection)
Gunman (Hack of Contra)
Demon Maze (Hack of Devil World)
Monkey (Hack of Donkey Kong)
Monkey Jr. (Hack of Donkey Kong Jr.)
Virus (Hack of Dr. Mario)
Elevator (Hack of Elevator Action)
Motorbike (Hack of Excitebike)
Formula Racing (Hack of F-1 Race)
Galaxy (Hack of Galaga)
Golf (Golf)
Mt. Everest (Hack of Ice Climber)
Hockey (Hack of Ice Hockey)
Space Billiards (Hack of Lunar Pool)
Mouse Vs. Cats (Hack of Mappy)
Jumpman (Hack of Mario Bros.)
Pie-Man (Hack of PAC-MAN)
Pie-Land (Hack of PAC-LAND)
Pinball (Hack of Pinball)
Bay Wars (Hack of Raid on Bungeling Bay)
Car Race (Hack of Road Fighter)
Family Pinball (Hack of Rock n' Ball)
Slalom (Hack of Slalom)
Soccer (Hack of Soccer)
Earth Invaders (Hack of Space Invaders)
Super Jump (Hack of Super Mario Bros.)
Super Jump 2 (Hack of Super Mario Bros. 2)
Super Jump 3 (Hack of Super Mario Bros. 3)
Russian Puzzle (Hack of TETRIS)
Russian Puzzle 2 (Hack of Tengen's TETRIS)
Alien Planet (Hack of Xevious)
Traverse USA (Hack of Zippy Race)
Family Arcade
Edit
In May 25, 2016, a Family Computer version of Pocket Arcade has been released, it is called "Family Arcade", the major difference is that the multicartridge is rewrited from scratch. Unlike the Game Boy Advance version, it has certain differences:
Title screens and company logos are eliminated to save space
It has three versions, one version is made for most Famiclones and NES-compatible hardware and another one is made for OneBus VT02/VT03-capable Famiclones.
For the North American/European/Australian version, Pocket Soft Ltd. added a Famicom-NES adapter from Gyromite to save costs.
Bonus games for both versions
Games list (Non-OneBus version)
Edit
American Football (Hack of 10-Yard Fight)
World War II (Hack of 1942)
Antarctica (Hack of Antarctic Adventure)
Balloon Brawl (Hack of Balloon Fight)
Tank Deathmatch (Hack of Battle City)
Bomb Maze (Hack of Bomberman)
Circus (Hack of Circus Charlie)
Road Painters (Hack of City Connection)
Gunman (Hack of Contra)
Demon Maze (Hack of Devil World)
Monkey (Hack of Donkey Kong)
Monkey Jr. (Hack of Donkey Kong Jr.)
Virus (Hack of Dr. Mario)
Elevator (Hack of Elevator Action)
Motorbike (Hack of Excitebike)
Formula Racing (Hack of F-1 Race)
Galaxy (Hack of Galaga)
Golf (Golf)
Mt. Everest (Hack of Ice Climber)
Hockey (Hack of Ice Hockey)
Space Billiards (Hack of Lunar Pool)
Mouse Vs. Cats (Hack of Mappy)
Jumpman (Hack of Mario Bros.)
Pie-Man (Hack of PAC-MAN)
Pie-Land (Hack of PAC-LAND)
Pinball (Hack of Pinball)
Bay Wars (Hack of Raid on Bungeling Bay)
Car Race (Hack of Road Fighter)
Family Pinball (Hack of Rock n' Ball)
Slalom (Hack of Slalom)
Soccer (Hack of Soccer)
Earth Invaders (Hack of Space Invaders)
Super Jump (Hack of Super Mario Bros.)
Super Jump 2 (Hack of Super Mario Bros. 2)
Super Jump 3 (Hack of Super Mario Bros. 3)
Russian Puzzle (Hack of TETRIS)
Russian Puzzle 2 (Hack of Tengen's TETRIS)
Alien Planet (Hack of Xevious)
Traverse USA (Hack of Zippy Race)
Space Mech (Hack of Cosmic Epsilon)
Boxing King (Hack of Punch-Out!!)
Karate Adventures (Hack of Karateka)
GT (Hack of Rad Racer)
Games list (OneBus VT02/VT03)
Edit
American Football (Hack of 10-Yard Fight)
World War II (Hack of 1942)
Antarctica (Hack of Antarctic Adventure)
Balloon Brawl (Hack of Balloon Fight)
Tank Deathmatch (Hack of Battle City)
Bomb Maze (Hack of Bomberman)
Circus (Hack of Circus Charlie)
Road Painters (Hack of City Connection)
Gunman (Hack of Contra)
Demon Maze (Hack of Devil World)
Monkey (Hack of Donkey Kong)
Monkey Jr. (Hack of Donkey Kong Jr.)
Virus (Hack of Dr. Mario)
Elevator (Hack of Elevator Action)
Motorbike (Hack of Excitebike)
Formula Racing (Hack of F-1 Race)
Galaxy (Hack of Galaga)
Golf (Golf)
Mt. Everest (Hack of Ice Climber)
Hockey (Hack of Ice Hockey)
Space Billiards (Hack of Lunar Pool)
Mouse Vs. Cats (Hack of Mappy)
Jumpman (Hack of Mario Bros.)
Pie-Man (Hack of PAC-MAN)
Pie-Land (Hack of PAC-LAND)
Pinball (Hack of Pinball)
Bay Wars (Hack of Raid on Bungeling Bay)
Car Race (Hack of Road Fighter)
Family Pinball (Hack of Rock n' Ball)
Slalom (Hack of Slalom)
Soccer (Hack of Soccer)
Earth Invaders (Hack of Space Invaders)
Super Jump (Hack of Super Mario Bros.)
Super Jump 2 (Hack of Super Mario Bros. 2)
Super Jump 3 (Hack of Super Mario Bros. 3)
Russian Puzzle (Hack of TETRIS)
Russian Puzzle 2 (Hack of Tengen's TETRIS)
Alien Planet (Hack of Xevious)
Traverse USA (Hack of Zippy Race)
Space Mech (Hack of Cosmic Epsilon)
Boxing King (Hack of Punch-Out!!)
Karate Adventures (Hack of Karateka)
GT (Hack of Rad Racer)
GT+ (OneBus version only)
Earth Invaders+ (OneBus version only)
Russian Puzzle Deluxe (OneBus version only)
Elevator Deluxe (OneBus version only)